Elena Jukova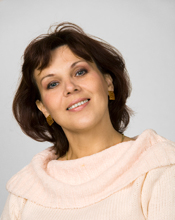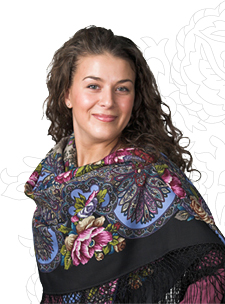 member of Union of Artists, member of Union of Stylists
State Premium in field of literature and art
"I was born in a small town with a funny name of Kokhma, near the town of Ivanovo. From childhood I with pleasure drew, moulded from clay, painted on kitchen small boards.

In higher forms, having visited textile factories in the town of Ivanovo with excursions, I had definitely decided, that by all means I should become a textile artist.

In 1983 I graduated from the section "Art and Colouristic Design of Woven and Knitted Wear" of the Ivanovo Technical School. I defended a degree work on the subject "Pavlovo Posad Shawl" with distinction. Since then I fell in love with unusual beauty of the Pavlovo Posad shawls. And since that day all my life has been closely related with unique production of shawls, with a quiet Pavlovskiy Posad, in which now is everything: my favourite job, my family, my friends, and all cares and expectations. 147;

For 16 years of activity on the factory Yelena Zhukova has created more than 130 designs for kerchiefs and shawls, many of them have been embodied and are living in nice products. She has created some designs which may be attributed to "avant-guarde" works, as they are unusual, modern, and are constantly in great demand among the buyers.

"I am very proud that I am a member of the Union of Artists and of the Union of Stylists of Russia. This membership was for me a merited recognition and estimation of my work.

I am pleasured very much with my work and creativity. I am happy to be engaged in my favorite affair. I think that I am sociable and cheerful. My motto is

"Everything in the Life Has to be Accepted with a Some Part of Humour, and not to Shade Colours on the Pallet!"

If everything is bright, clean, and light, the world around you will be cleaner and kinder! I am happy that I can give to surrounding people a grain of kindness and happiness! I wish good luck to everyone."