Elena Nemeshaeva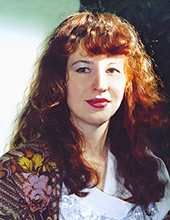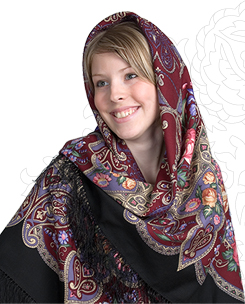 member of Union of Artists, member of Union of Stylists
"Since very juvenile years I was attracted by the beauty of nature. The desire to reproduce all many-sided combinations of colours was the base for my decision to become artist. The world of fashion has always excited my imagination, I wanted that the people were beautiful, elegantly dressed, when the suit underlines the individuality of each person.

As I was perfecting in my skill, the conviction, that a particular charme to the woman give just the accessories, was growing as well. Often the accentuated role of imparting a peculiar sound to the same dress is assigned just to a shawl or a scarf.

Following a well-known proverb "Where was born, there was needed", being a native of a glorious town of Pavlovskiy Posad, which for a long time has been famous for its remarkable kerchiefs and shawls, I choose my life.

Having entered the famous factory in 1985 as a copyist, I had an ardent desire to study in order to become artist. In 1994 after termination of the Textile Academy I crossed the gate of the factory as an artist.

The work on creative projects is the base of my life, the desire to express myself and to create something new advances me in search of composition. As is well known, one should not work well, not knowing how to rest. And the rest for me is traveling, new natural landscapes, as a precious replenishment for an art perception. Especially the heart strives to a water element, I like to furrow the boundless sea expanses. The sea for me is the source of inspiration not only in drawings, but also in verses. And the music, as a harmonic integrating origin of all strivings, optimizes a creative process."